What happens to your career when you start to make a stronger commitment to your values? How does a spiritual practice manifest in how you approach work or the professional choices you make? What does Buddhist practice look like in modern-day America?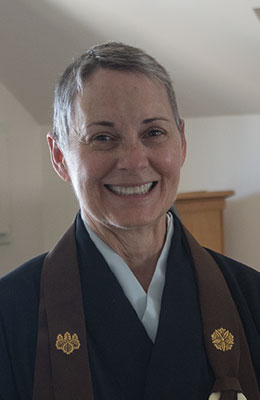 This and more comes up in episode 3 with Karen Maezen Miller (dharma name: Maezen), a Zen Buddhist priest and writer. Maezen used to run her own successful PR business in Texas. She had a nice house, a nice car, and led a life dedicated to her self-image. She now writes about Zen and everyday life, cares for her family, tends to an old Japanese garden in Sierra Madre, and travels around the country teaching others how to sit zazen. She describes the details of such a drastic change that wasn't so much a conscious choice or a force of will – but gradually letting go of the unsustainable, seeing things as they are, dealing with what comes up, and sometimes just coasting.
---
Resources:
karenmaezenmiller.com is Maezen's website with her retreat schedule, books, writings and talks.
The Hazy Moon Zen Center was established in Los Angeles in 1997 by William Nyogen Yeo Roshi, a successor of Maezumi Roshi and Maezen's current teacher. Maezen leads some of the retreats and classes offered there.
Bellarmine Commencement Address­ 2007 by Wendell Berry
from intro…
IPCC special report, Global Warming of 1.5 °C
The Brave Little Parrot retold by Rafe Martin
originally posted on thenewconstructivist.org